'Twas the night before Christmas, and only now you remember the sofa you wanted to ask Santa to bring Christmas. While it is too late to get a strikingly bold leather sofa  or a voluptuously soft velvet Chesterfield for the holidays, it is the perfect time to look into buying a new sofa for the New Year. Make this next decade a decade to remember – lounging, relaxing, and experiencing the finest moments of life on your very own custom sofa. Not sure where to start? We're here to give you a head start on your New Year's resolution – finding the perfect custom sofa match for you and your home! Ring the bells of 2020 with our 20 favorite sofas for the new decade.
THE STELLA
SHOWN IN GRASS GREEN PERRY WOOL
With sharp square angles and seamless vertical channel tufting, The Stella is short in stature but flexible in design applications. Like a lush grass field, Grass Green Perry Wool rolls delicately across her surface, inviting you for a gentle evening in the meadow. Balanced atop tapered legs with a gold heel, she is the ideal sofa for open-concept and feng shui designs.
THE OTIS
SHOWN IN SUNBRELLA CANVAS FERN
Lookin' to vibe? Come get acquainted with Otis. Become buddies with the bijou button tufts on his cushions. Push any worries off his petite roll arms and sweep them under his shallow, slender frame.
THE LANGSTON
SHOWN IN HAND-STAINED CENERE LEATHER
People who own The Langston share an appreciation for simpler times, paired with a smooth whiskey. Ash your cigar before sitting back in your Cenere leather sofa, but don't get too comfy; your poker game should be starting soon.
THE HESTON
SHOWN IN BRENTWOOD CUERO LEATHER
Throw your current sofa out the window, into the garbage, and make some room in that living room of yours for The Heston. Boastfully rugged and remarkable, neat t-back cushions are one of many features that makes The Heston an irreplaceable piece of furniture.
THE ARMSTRONG
SHOWN IN BROWN COGNAC LEATHER
The Armstrong, the only sofa we wish came à la carte. Timeless charm mixes with a smooth and refined style to breathe an attitude sweeter than caramel sauce dripping down vanilla ice cream. A classic sit that you're going to need a bigger spoon to enjoy.
BIG BENJAMIN
SHOWN IN MONT BLANC EMERALD LEATHER
Our Big Benjamin, wrapped in Mont Blanc Emerald leather, is an indulgence with classic deep-railing, and tufts crisper than a Granny Smith apple – but this sofa ain't no Granny. Fantastic gold nails accentuate this queen-sized sofa, and ensure whoever takes the seat truly feels like they've taken the throne.
THE SIDNEY
SHOWN IN BROMPTON VINTAGE LEATHER
Contrary to popular belief, this sofa was not stolen from the employee lounge of the Museum of Modern Art. The Sidney was forged by the greatest minds of today to represent a modern aesthetic brushed upon traditional appeal. Smooth. Succulent. Savory. Sweet.
THE MCQUEEN PETITE
SHOWN IN CRYPTON SKY SALT
If you've ever dreamed of sleeping on a cloud, let us direct you to The McQueen Petite. Simple and smooth, oh so comfortable and attractive. Plush and stuffed Crypton Sky Salt fabrics are the perfect landing zone for a heavy, sleepy head.
THE JAMESON
SHOWN IN MONT BLANC LARKSPUR LEATHER
The Jameson is of Iron & Oak's mighty Jaguar – strikingly beautiful, undeniably dangerous. Are you confident enough to live among the beasts of the jungle? Wrapped as elegantly as ever in Mont Blanc Larkspur.
THE WRIGHT
SHOWN IN ROMANZA BLACK LEATHER
If putting a spin on the traditional feels right, then The Wright should be about your speed. Traditional Chesterfield style meets a taller sloped back and tight seat. Dressed daringly in Romanza Black Leather, appropriate for both dinner and the club scene.
THE TRUMAN
SHOWN IN MELVILLE RHAPSODY
The Truman is a Chesterfield unique among its counterparts. With a gently curved seat and elegantly sloped and tufted back and arms, our Truman in Melville Rhapsody is certified cool with a dash of dapper.
THE ELIZABETH
SHOWN IN ANGELINA 1080
Looking to live like royalty? You'll need a fit for a queen. The Elizabeth holds the appearance of regality, and has the clout to back it up. Timeless wraparound arms and smooth, gentle curves assure her ability to entice any of your guests to sit down for a drink.
THE HEPBURN
SHOWN IN MOORE & GILES MILLED BRENTWOOD BURGUNDY
The Hepburn is your classic girl next door who has it all. Charm, class, good looks, and a comfortable sit. Reinforced by stunning Moore & Giles Milled Brentwood Burgundy leather, this Hepburn is guaranteed to catch the eye of Grandpa and Grandma alike. And don't worry – this time, they'll approve.
THE TWAIN
SHOWN IN MONT BLANC IVORY
The Twain is the sofa to last a lifetime. An heirloom quality piece, its timeless design and beautifully modern wide diamond tufting are hallmarks of its quality. Clothed in Mont Blanc Ivory leather, this is the sofa where you grow old together.
THE JACK
SHOWN IN MONT BLANC CRIMSON
Low-profile? Check. Mid-century? Check. Shown in dazzling Mont Blanc Crimson? Check. The Jack is an open-concept button-tufted masterpiece that is more than ready to find its forever home in your living room. This is the one time where it's cool to be square.
THE FITZGERALD
SHOWN IN COMO ATLANTIC VELVET
Classic style comes back and better than ever with The Fitzgerald. Looking as fresh and smooth as the ocean blue, this sofa is no joke when it comes decked out in Como Atlantic Velvet. Take a step back, because this piece of furniture demands center-stage in your living room.
THE DYLAN
SHOWN IN NAVY LEATHER ON STAINLESS STEEL LEGS
Square Button "On The Rocks" tufting and a smooth bench seat delivers a staunchness from this Navy Leather Dylan on stainless steel legs. With beautifully sharp right angles, the Dylan cuts through the noise of your home to make a bold statement.
THE LEWIS
SHOWN IN IVORY WHITE LEATHER
Updated square arms and tapered legs are two examples where The Lewis defies the traditional Chesterfield design elements. Looking stronger than a bull elephant in Ivory White leather,
THE HEMINGWAY
SHOWN IN AMADEUS WHISKEY
Our ultimate head turner, The Hemingway smolders fiercely in Amadeus Whiskey leather. Demanding quiet attention and steadfast resolve, with a matching cognac in hand, this Chesterfield reinterpretation is one of of Iron & Oak's proudest exclusive pieces.
THE ROOSEVELT
SHOWN IN DARK BRICK LEATHER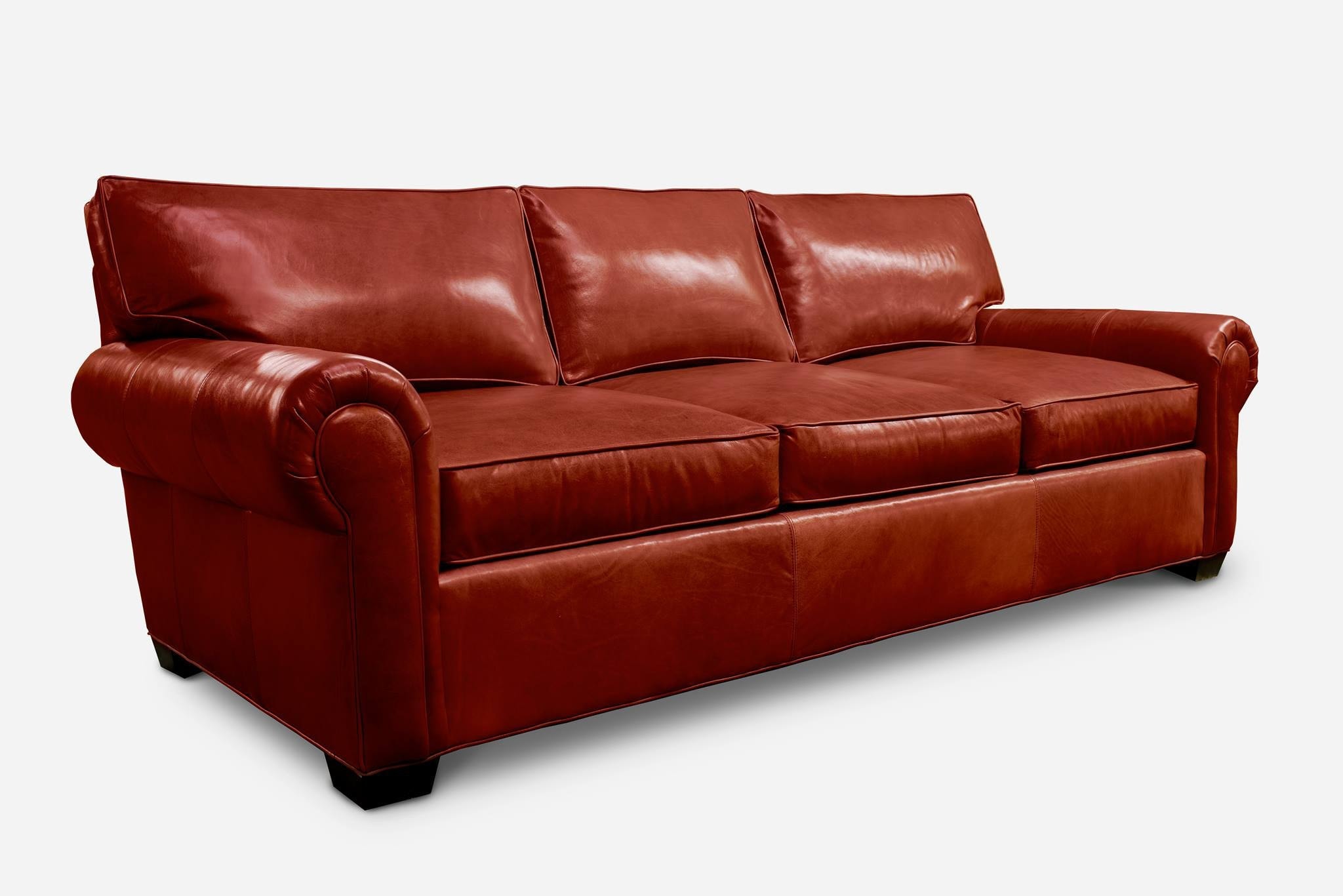 Undeniably strong and distinguished, The Roosevelt is a sofa for everyone. T-back and plush seat cushions are complemented by classic bold roll arms. Feel yourself sink deep into this sofa night after night.
The time to order Christmas presents has passed. Luckily, a new sofa is a New Year's thing anyways. If you can see yourself sinking into one of our sofas on this page, give us a call! Want to see something similar, but different? Contact us! Or check our Facebook or Instagram for more picturesque examples of our custom furniture. Til' next time – Happy Holidays, Merry Christmas, and have a Happy New Year.